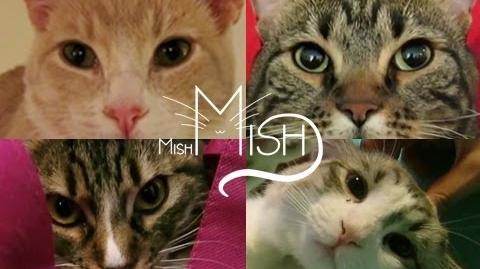 WeAreMishMish
is a channel run by
Cupquake
,
Red
, and their friends
Mr. Sark
& his wife. It is dedicated to cats and other animals with a new video that is released every week. The channel was started on January 16, 2013, and the first video was uploaded on March 1, 2013.
WeAreMishMish mainly focuses on four cats, two of which are owned by Cupquake and Red.
Other animals
Edit
WeAreMishMish also features other animals that appear as guests too.
Ruby - Cupquake's Yorkshire Terrier, is a dog she had to leave behind at her parents house when she moved in with Red.
Pixel - a rabbit owned by Melissa Valdes or MittyMoxx, Cupquake's sister-in-law.
Ad blocker interference detected!
Wikia is a free-to-use site that makes money from advertising. We have a modified experience for viewers using ad blockers

Wikia is not accessible if you've made further modifications. Remove the custom ad blocker rule(s) and the page will load as expected.