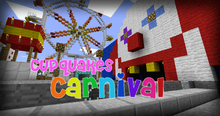 Cupquake's Carnival was a series that ran on Machinima's main channel for three episodes from July 1, 2011 to July 4, 2011. The series consisted of Cupquake showing off the carnival she built in Minecraft. Videos of Cupquake building the carnival were aired on the iHasCupquake channel.
The first episode has been deleted by Machinima. MinecraftChick, SlyFoxHound, ChimneySwift11 were special guests on this series when they took a tour of the carnival with Cupquake. The carnival was built before creative mode was released in Minecraft, making building it an especially difficult challenge. The carnival is available to download on the Minecraft Forum, 
here
, and
here
for Minecraft beta 1.8 and up

.
Ad blocker interference detected!
Wikia is a free-to-use site that makes money from advertising. We have a modified experience for viewers using ad blockers

Wikia is not accessible if you've made further modifications. Remove the custom ad blocker rule(s) and the page will load as expected.